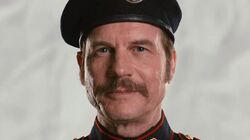 Unwind was a potential film based on the book of the same name, written by Neal Shusterman. It was in pre-production under the German film production and film distribution company Constantin Film and Don Carmody Productions, and was co-financed with Voltage Pictures. Roger Avary was chosen as director, with the script written by Roger and Gala Avary.
Neal Shusterman announced in January 2020 Unwind was now being developed as a TV series[1], he has said the movie project "didn't work out".[2]
Plot
In a cruel dystopian world, those between 13 and 18 years of age either function as a cog in the machine of a brainwashed society, or they will be "unwound." That is, your body will be taken apart, piece by piece, and given to those the government determines to be more suitable. Connor, Risa, and Lev are three young people raging against the machine. Their desire for freedom and self-determination is greater than their fear of unwinding.
Cast
Trivia
Bill Paxton was to portray The Admiral and even portrayed him for the pitch trailer, before his death.
References